Modern, quick to deploy buildings demonstrate vision for the future in Boston.
Triumph Modular worked with the development team at Berkshire Group to help them bring "the new Boston" to life in the thriving Seaport District of Boston. Berkshire wanted a temporary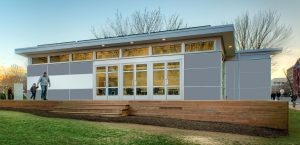 marketing space that would accurately demonstrate their vision for the world-class residential and retail experience that will set the new standard for the city of Boston.
Triumph's designs, although quick to deploy and relocate, accomplish that goal.  By sharing a vision of what the built environment should look and feel like and having a mutual understanding of the value of  green building, we can activate a developer's vision well in advance of completion of their project.  The Benjamin/VIA is the largest ($600 Million) mixed-use project in the city of Boston in over 30 years.   We are very thankful for and take pride in helping to contribute to the shaping of Boston's waterfront for the next generation to enjoy.
Marketing Center Quick Facts:
Modern Glass Architecture
1008 SF, two modular units
Designed occupancy 30, target LEED Gold if permanent install
Construction waste under 200 lbs
PV ready, Rain Capture system
Integrated white boards and tack boards, pre-wired for digital projection and technology screens
LED down lights, Occupancy sensors, daylight sensors
Customized interior movable walls, custom color exterior wall panels, and exterior marker boards
Greenguard certified materials.
Triumph Modular Inc., is a USGBC member and past award winner.

The following two tabs change content below.
A graduate of Boston University School of Law (90), Glenn left a legal career for Triumph in 2003. A LEED AP (USGBC) he works with clients primarily in preconstruction to form healthy foundations for successful projects. Glenn advocates for the value proposition in prefabricated forms of construction, believing in the many benefits of "activation space" or "swing space" as well in the "modularization" of permanent building construction. He also enjoys an active curriculum in architecture and building science.
Latest posts by Glenn Cort (see all)