The Challenge of Making Buildings Flexible ~ How to Create Campuses That Adapt to Changing Needs
The Society for Colleges and University Planning (SCUP) featured an article in the September edition of Planning for Higher Education Journal about the importance of flexible building.  Triumph is proud to be a member of SCUP, a Learning Community Where Ideas, Resources, and Connections Advance Planning for Higher Education.
Here is an excerpt from this timely article which explores "How can buildings be both flexible and concrete?" written by Rusty Williams, an passionate entrepreneur who co-founded AnswerStage and with input from Glenn Cort, Executive Vice President, Triumph Modular.  The answers here are critical as institutions try to keep up with rapid changes in technology, curriculum, teaching techniques, and demographics.  You can request the full article below.
INTRODUCTION
MANY OF THE TOP COLLEGES AND UNIVERSITIES in the country have invested hundreds of hours in developing master plans for their campuses that include both a philosophy and an action plan for buildings, landscapes, roads, student housing, safety, walkways, and integration with surrounding communities. These master plans convey a vision that spans decades and serve as blueprints for the desired student life and learning environments. However, all master plans grapple with an inherent tension: while their goal is to offer clear, detailed guidance, they are subject to revision based on changing needs.
This idea—the requirement for flexibility in response to changing needs—is becoming a norm in the planning process and is now being acknowledged in most college and university master plans.  (Examples given in full article).
Regardless of the tools used in the development of an SFP, the SFP should be viewed as a living document that reports findings and makes considered recommendations for implementing the plan within a realistic time frame, yet maintains flexibility to adapt as business requires.
Taking flexibility into consideration when developing a master plan has become best practice on a national and international scale as practitioners aim to address our constantly evolving world. A white paper published by the International Facility Management Association (2009, p. 16) includes this description of a strategic facility plan (SFP):
Taking flexibility into consideration when developing a master plan has become best practice.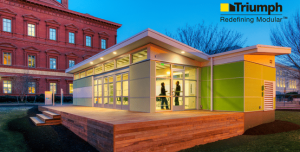 However, the concept of flexibility is in direct conflict with the nature of most buildings. Historically, college buildings have been considered permanent structures—landmarks designed to stand forever. This is apparent when exploring the quads and commons of many universities.  From the Gothic dining halls at Princeton to Jefferson's Rotunda at the University  of Virginia, the long-standing nature of campus buildings conveys a sense of being "steeped in history" and adds to the stature of the school. But, increasingly, schools are under pressure to evolve and modify facilities to meet the demands of new programs. This is most apparent in the technology and engineering fields, STEM curriculum, and even some liberal arts programs.
Facilities need to support new technology, curricula, and teaching techniques, so it's almost certain that modifications will be necessary within a decade.   An adaptable, configurable campus is a natural response to the rapidly changing world we live in.
College and university facilities are ripe for innovation, and an adaptable, configurable campus is a natural response to the rapidly changing world we live in. Modular building provides a strong solution to accommodate the growing need for agile facilities on campus driven by the transformation of the learning and teaching environment into one that is more active and engaging. As colleges and universities continue to advance in design, agile facilities that foster cutting-edge learning environments will be implemented with a focus on integrating flexibility to help ensure campuses can easily be reimagined to meet current and future needs.
The following two tabs change content below.
With a passion for solution based thinking, and over 30 years of management experience in corporate communications, sales, marketing and technology across several industries including higher education, Linda understands the unique requirements of organizations undergoing rapid growth and expansion.
Latest posts by Linda Bee (see all)