A first-year engineer at Google makes well over $100,000. That's more than twice the average household income for the whole country. And yet, surprisingly, these employees are having a hard time finding places they can afford to live within commuting distance of Google's Mountain View, CA, Headquarters. Google sees this as a big problem and they've come up with a solution: modular construction.
Google's decision to create 300 apartments using modular construction garnered headlines in dozens of publications and media outlets. It's a great endorsement for those of us participating in the modular industry. Where Google leads, many others will follow. Modular will become a key part of Google's vision for its "reconfigurable" Bay View Campus at the former Moffett Airfield.
From the San Jose Mercury News:  Modular housing has the potential to be "a real game changer" for the Bay Area housing crunch, said Matt Regan, senior vice-president of public policy at the Bay Area Council, a business group of which Google is a member.
An article in the Wall Street Journal about Google's project noted that "modular building technology […] could help reduce the cost of construction it the Bay Area by 20% to 50%." This is a huge selling point for modular, but it's only part of the story. Reducing the cost of construction is just one dimension of this challenge. If engineers at Google earning six figures can't find affordable housing, how can construction workers, electricians, and other trade specialists required to build apartments — even in a modular facility – find a place to live? Increasingly, the answer is they can't.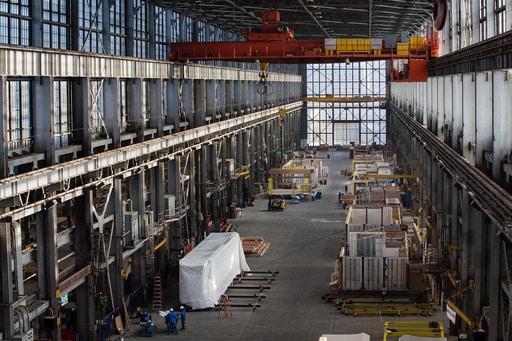 In addition to driving down costs with a more efficient process, the other significant benefit of modular is that construction can take place many miles away – often hundreds of miles. This "place shifting" creates a whole new dynamic for construction projects because most of the work takes place outside of urban centers where the cost of living is lower and the labor pool is relatively stable.
As an illustration, Google's 300 apartments will be built in a converted a factory on Mare Island in Vallejo California – about 80 miles northeast Mountain View. The 250,000 square foot building which is the length of three football fields as once part of a Naval yard where periscopes were installed in submarines. The massive scale of the building's past serves as a perfect context for tackling one of the biggest challenges of this new era – creating affordable, high quality housing using a modern approach.
By constructing buildings in a controlled, highly efficient environment — away from the dense urban centers — modular offers a significant advantage over traditional construction and is being embraced by innovative companies like Google.
The following two tabs change content below.
Rusty is a graduate of Trinity College in Hartford, CT. He's the co-founder of multiple tech companies and enjoys exploring the intersection of education, innovation, and built space. He hosts a podcast called Forming the Future which features conversations with thought leaders in campus planning, collaborative learning, ed tech and architecture.
Latest posts by Rusty Williams (see all)